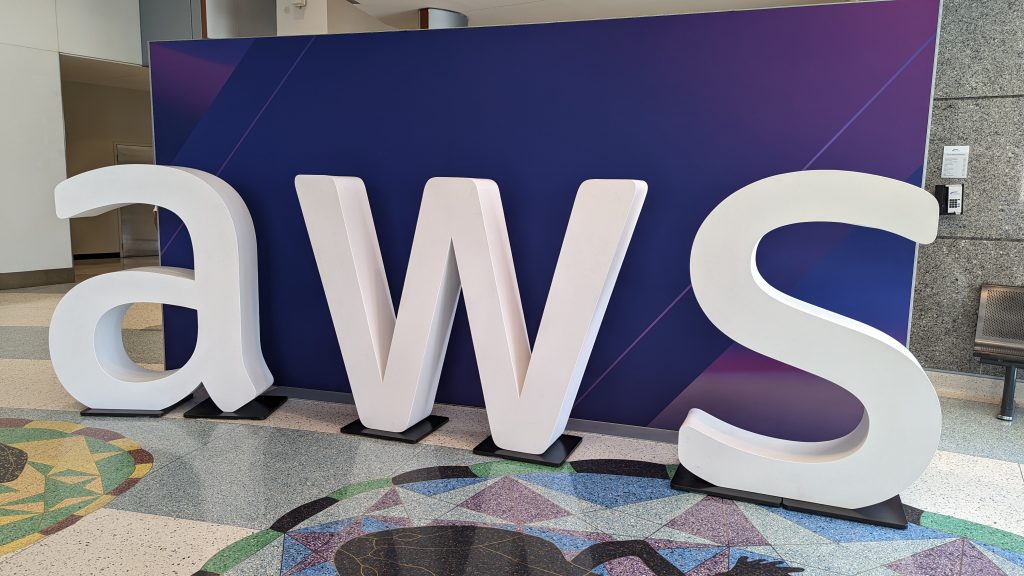 Introduction
I found out about the AWS Summit Toronto happening June 22-23, 2022 in Toronto from a random LinkedIn post. I'm glad I came across it, and grateful to my leaders at OpenText where I work, to allow me to attend for both days.
The event itself is free to attend, which surprised me, as it definitely had the feel of a fully funded conference. I suppose we have the sponsors to thank for helping make the event possible: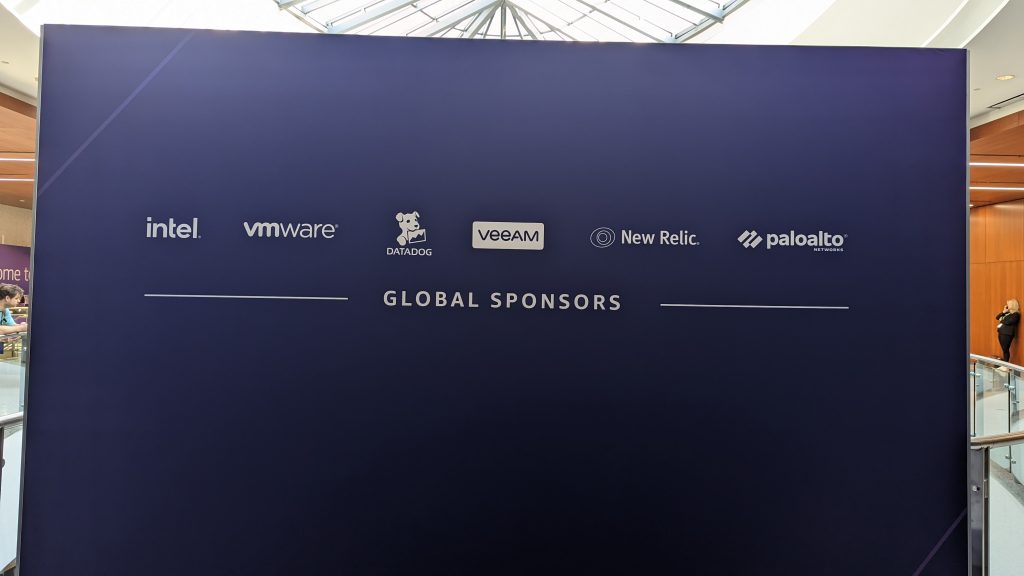 I took the GO Transit train from Kitchener to Toronto both days, which took about 1hr 45min each way, and cost less than $30 round trip. This saved me from paying the ridiculous prices for gas, having to deal with rush hour traffic to/from Toronto, and having to find and pay for parking. Plus, the train arrived right to Union Station, and the Metro Toronto Convention Centre was less than a 10 minute walk away.
What is an AWS Summit?
AWS Global Summits are free events that bring the cloud computing community together to connect, collaborate, and learn about AWS. When you attend an AWS Summit, you hear from AWS leaders, experts, partners, and customers. There are a number of sessions you can attend to learn more about specific features of AWS, strategies for leveraging AWS; and talk to vendors whose products support AWS. Check out this page to see if there is an AWS Summit happening near you.
Registration
Although you register online to attend the event, you do need to check-in to receive your event badge. You needed to show proof of COVID vaccination (which I appreciated), and photo ID. The event badge had an NFC chip in it, which could be scanned to confirm entry to sessions, to provide your contact information to vendors, and to register for prize draws.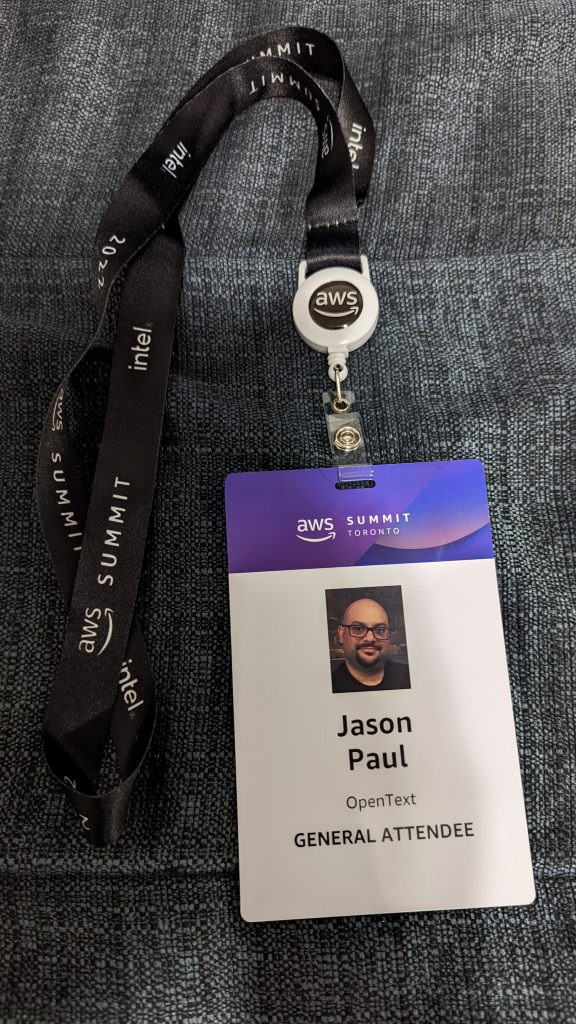 I arrived early on the first day, and there was no lineup to check-in thankfully. The AWS Summit was on the lower levels of the South building, and they didn't start letting us in until 8:30AM. Once they allowed us in, we were able to get some breakfast, and relax until the keynote at 10:00AM.
The Food
The breakfast that was provided was fairly basic. Yogurt, bananas, granola bars, coffee, and tea. Nothing too fancy.
The lunches were a bit nicer. There were pre-packaged boxes with various meals. Mainly sandwiches, but there were some salads and there were vegan options as well. The meals were fairly decent. The sandwiches were very robust and had a lot of flavor. Each of the meals had a fruit salad, a vegetable or grain salad, and a dessert. The first day was a moist chocolate chip cookie, and the second day was a very chocolatey brownie.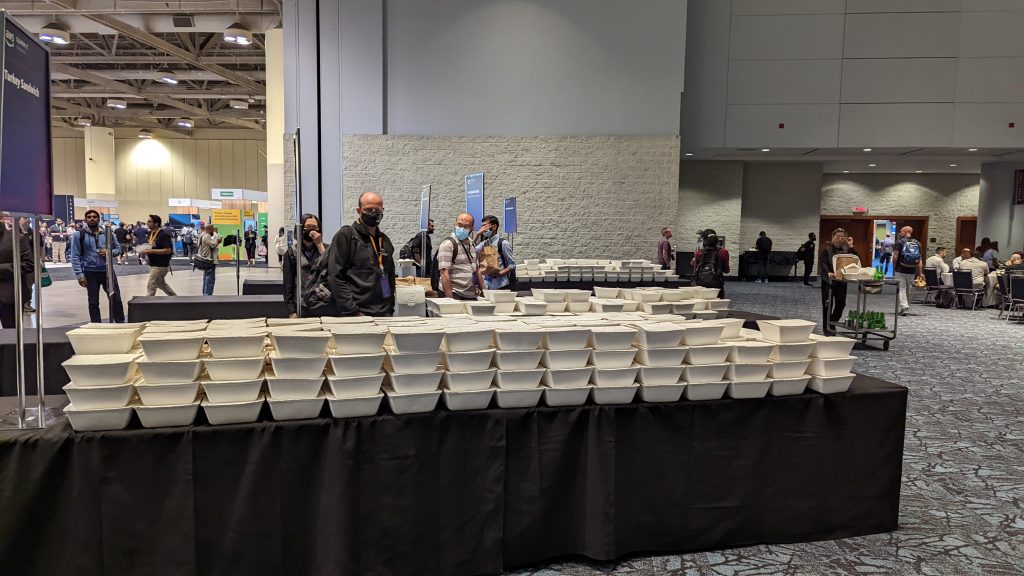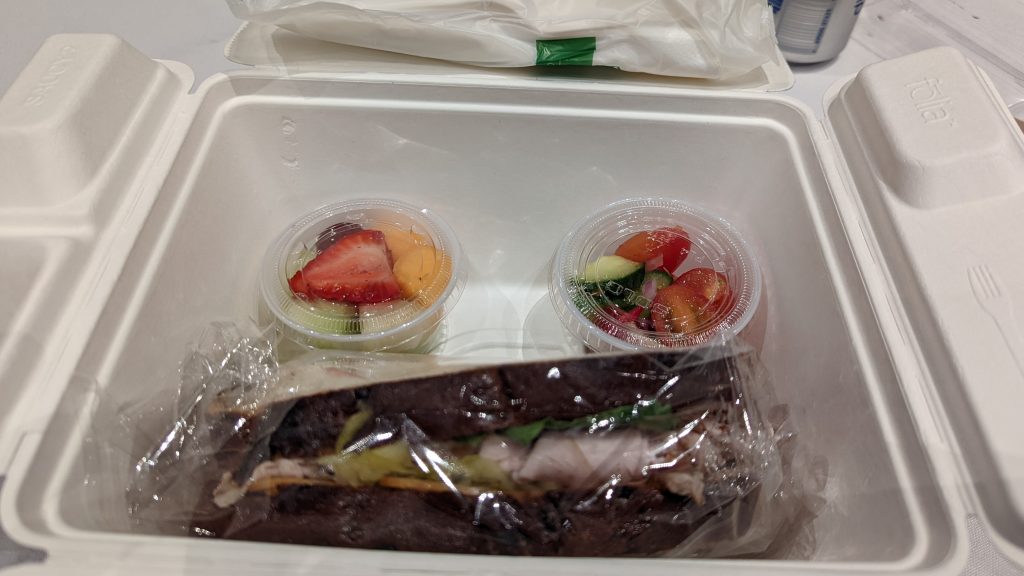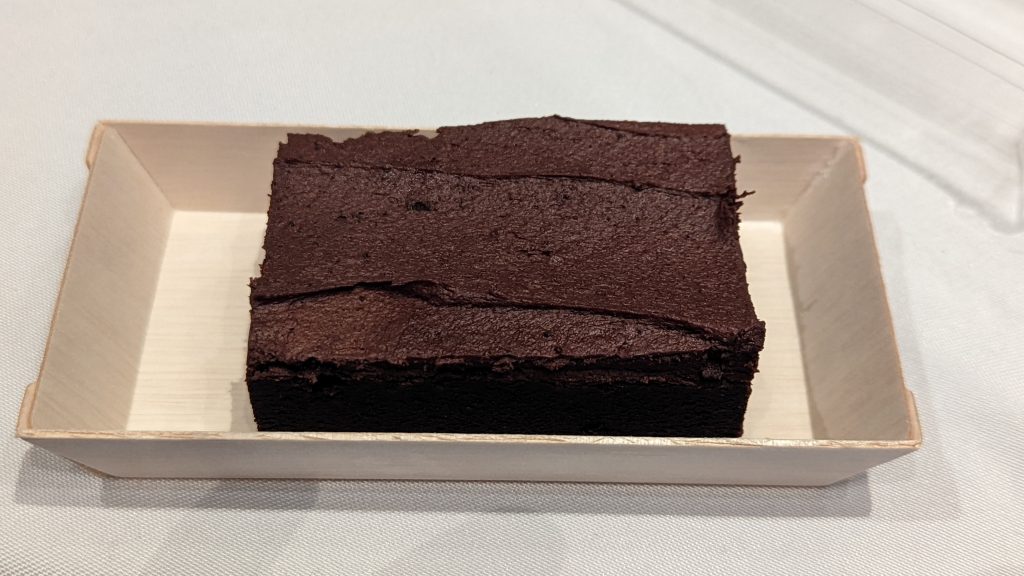 There were water dispensers available throughout the day, Pepsi products and sparkling water during lunch. There was also coffee, tea, and drinks available in the late afternoon. I brought a Contigo travel mug with me which made it very easy to keep a hot coffee going most of the day.
Overall I was quite happy with the food, especially since it was all complementary. I would have appreciated some snacks towards the afternoon as I started to get a bit hungry towards the end of the day, but I brought some protein bars to help with that.
The App
To organize the sessions to attend, and know when and where everything was happening, there were live screens in the foyer that had information, but the better way was to install the AWS Events app on your Android or iPhone. The app had an easy to use interface, where you could filter through all of the sessions by date and time, and highlight the ones you were interested in, and it would build a calendar to show you all of the sessions so you could choose which to attend.
The Sessions
Starting with the Keynote at 10:00AM on the first day, there was a lot of information on AWS services as well as customer testimonials and vendor product information. It wasn't possible to attend all of the sessions. I believe the recordings of the sessions will be posted on the AWS Events Youtube channel, and I'm looking forward to watching some of them. I attended a number of sessions I was interested in, mainly around serverless application development, and some of the security tools I was interested in.
The Expo Floor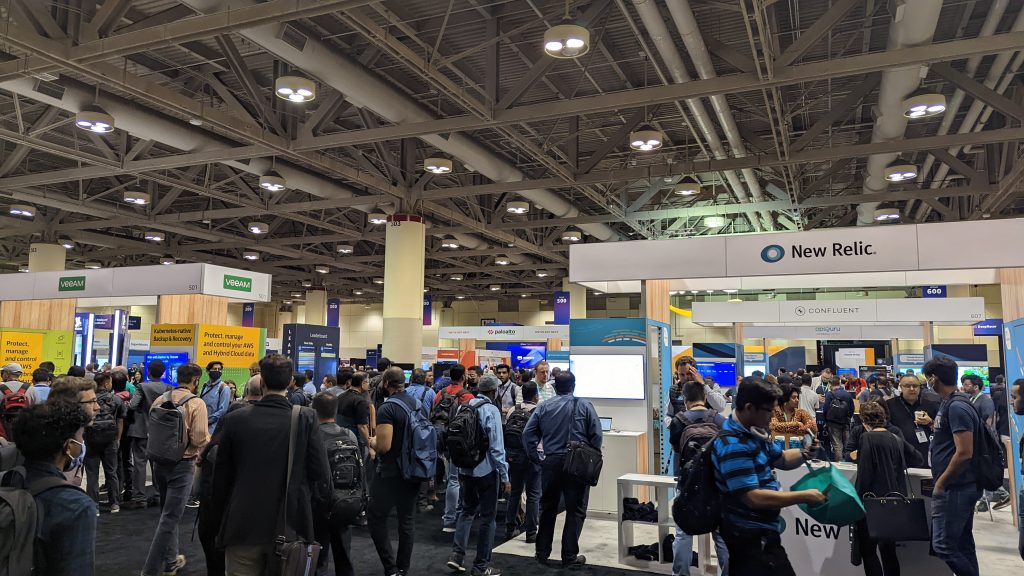 This was the heart of the event in my opinion. There were booths for many vendors to learn about their products and how they support AWS, as well as a Developer Lounge for relaxing and playing some games, and lots of space to chat and network.
I was surprised how many vendors were there that I already work with, from SentinelOne, New Relic, Splunk, PagerDuty, GitLab, Hashicorp, and more. I appreciated the opportunity to learn a bit more about what their products could do, and how I could better leverage them.
There was also an "AWS Ask The Experts" area where you could talk to AWS employees and ask questions about specific problems or ideas you had.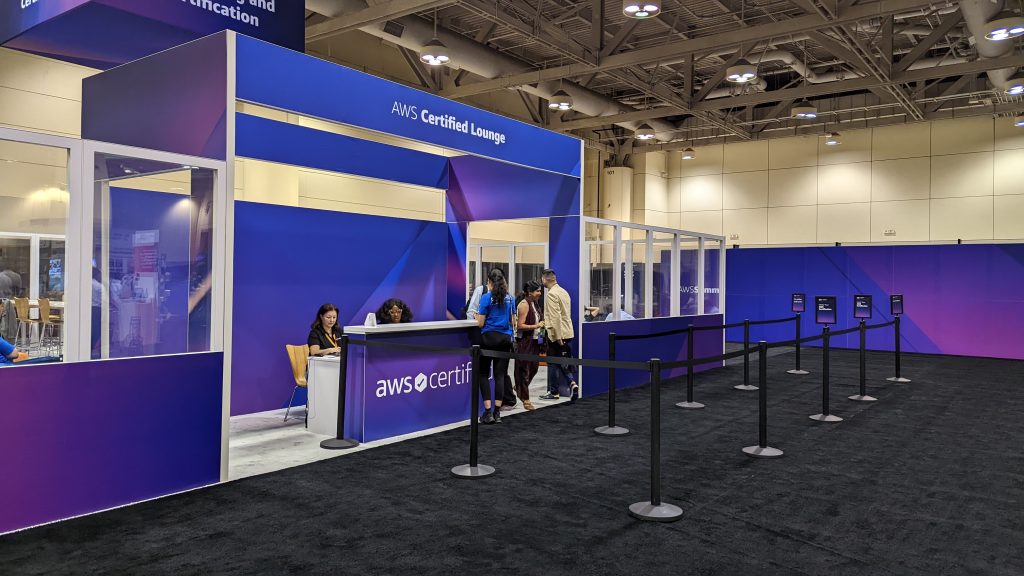 The AWS Certified Lounge was a special area that was exclusive to AWS certified individuals only. Just more motivation to get some certifications under my belt!
The Networking
In my opinion, this was the most valuable part of the event. Being able to meet in person with colleagues, vendors, friends, and business associates and ask questions, discuss problems and solutions, and talk about various products and platforms was extremely valuable, and missed from the last few years. It was great even to just chat with random attendees, make connections, get to know them a bit, and swap contact information.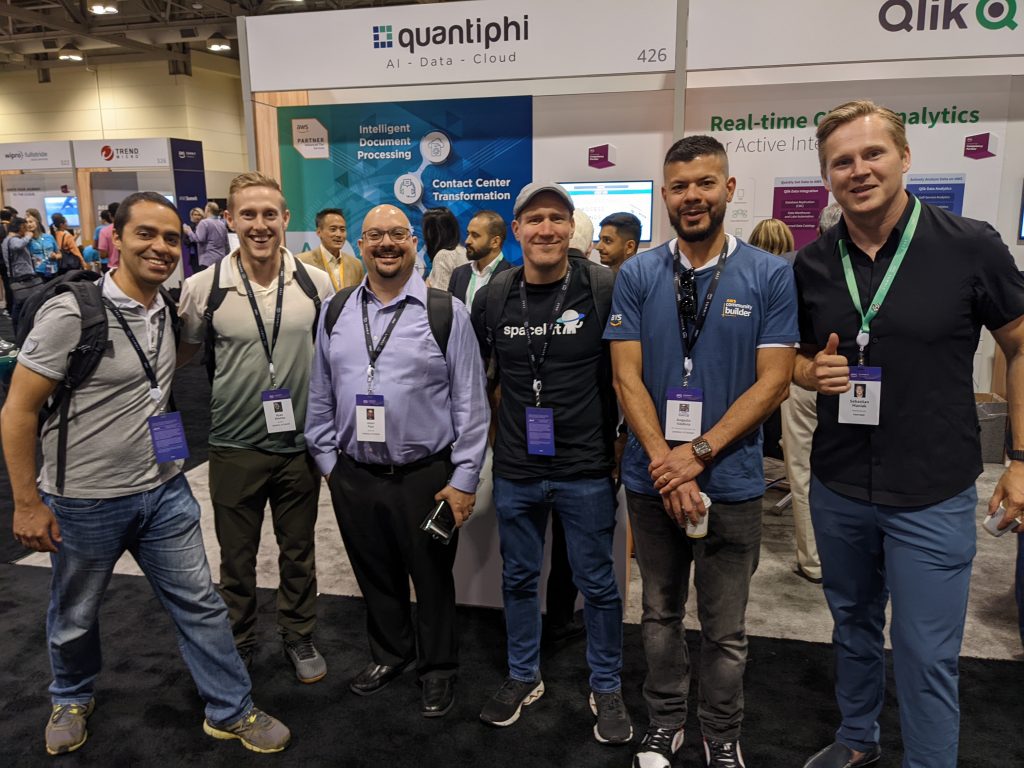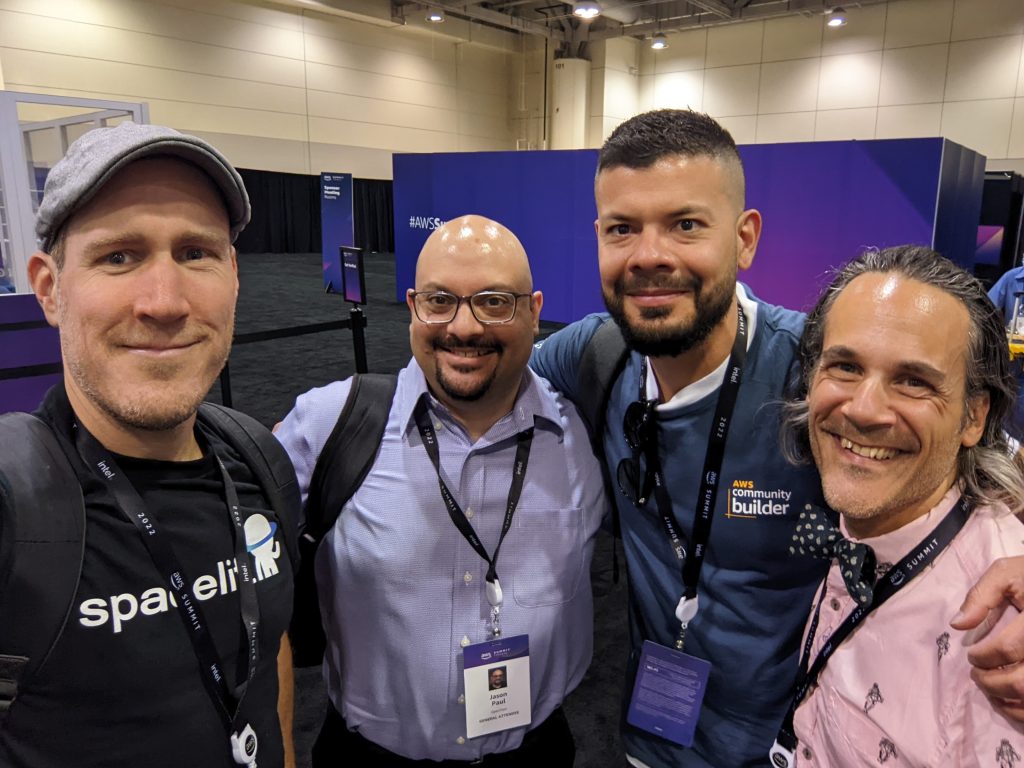 I was very happy to meet with some of the connections in person that I had made on LinkedIn, and spend some time just chatting over a drink. Special shoutout to Derek Morgan for bringing many of us together through his More than Certified courses and Discord. Also, special thanks to Spacelift for sponsoring some of our post-event festivities!
I also was happy to meet with the AWS team supporting our company account, and having the opportunity to sit down with them and discuss some of the issues and initiatives that we are working on. I'm glad they reached out and we were able to organize a chat!
There were also a number of dinners and "Happy Hours" organized by AWS and the various vendors. Unfortunately I didn't get to stay out late to attend many of these as I had to catch my train back each day, but I would be remiss if I didn't mention it. This was another great opportunity to network and build relationships.
The Swag
Of course, no conference is complete without talking about all the freebies that are given out! From T-Shirts, socks, hats, stickers, pens, coffee mugs and water bottles; there was much to be had. There were a number of prizes as well, although you typically had to scan your badge to give your contact information to sign up. AWS was also providing some free credits for practicing with, which I definitely appreciated.
Conclusion
Overall, I was very happy with the AWS Summit Toronto 2022. It was definitely nice to be able to attend and meet up in person again. There were plenty of sessions for learning, as well as opportunities to network. I hope I will have the opportunity to attend again in the future!
Event Gallery