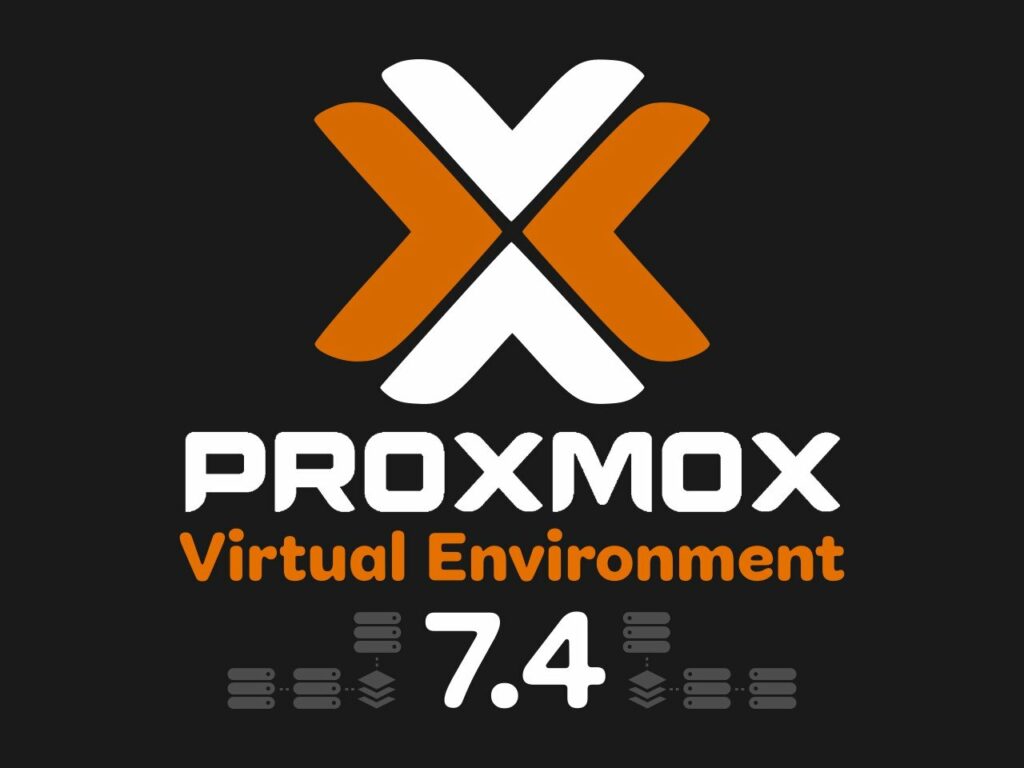 Introduction
Proxmox VE 7.4 was released on March 23, 2023. It has a number of upgrades which the Release Notes and Forum Announcement outline, including:
Debian 11.6 "Bullseye", but using a newer Linux kernel 5.15 or 6.2
QEMU 7.2, LXC 5.0.2, and ZFS 2.1.9
Ceph Quincy 17.2.5 and Ceph Pacific 16.2.11
A fully-integrated "Proxmox Dark" theme variant
Display of detailed Ceph OSD information in GUI and API
Download task logs as text files
Sorting of resource tree by name or VMID
HA manager: Added CRM command to switch an online node manually into maintenance (without reboot).
CRS: rebalance VMs & containers automatically on start
One of the main highlights is the introduction of DARK MODE. This has been a popular request, and there have been unsupported third party scripts available for a while now to enable a dark mode, but it's very nice to have it natively supported.
Dark theme: A fully-integrated "Proxmox Dark" theme variant is now available for the web interface and the lovers of darkness. The theme is based on the Crisp light theme. To detect if a user has requested light or dark color themes, the CSS media feature prefers-color-scheme is used. Through settings in the operating system or their browser, users can indicate their preferences. However, users can switch between the color schemes manually in the web interface as well.

Proxmox Press Release
Preparing to Upgrade
Currently my Proxmox servers are on version 7.3-1 (running kernel: 6.1.6-1-pve). I checked this by running pveversion -v in an SSH terminal on the server. Because I'm not upgrading between major versions, this can be done on command line or via the Web GUI.
Before upgrading, I switched all of my VM storage to run on Ceph, so I would be able to migrate my VMs faster between nodes in the cluster. Before upgrading a node, I migrated all of the VMs to another node so if there was a problem, it wouldn't bring down any services. I was able to migrate all of the VMs off a node at once using the Bulk Migrate option available in the top right of the Web GUI under Bulk Actions:
I also performed a manual backup of all of the VMs to separate storage, so if they became corrupted I would be able to restore. I already have daily snapshots, but I performed a full backup before upgrade just in case. To do this, I went to Datacenter > Backup and selected "Run Now" for my configured backup job, to back up all VMs to my NFS storage.
Upgrading Proxmox Nodes
To upgrade, in the Web UI, I clicked on my Node pve1, then went to Updates > Upgrade. This launched an SSH window that asked me to confirm the package updates. Basically this would run an apt-get dist-upgrade command.
The default kernel that Proxmox VE 7.4 uses is kernel 5.15. I was already using kernel 6.1.6, so I wanted to make sure I had the latest version of that version. Proxmox VE 7.4 has an opt-in for kernel 6.2. To use this, once the upgrade was finished, I ran the following commands in the SSH terminal:
apt upgrade
apt install pve-kernel-6.2
Afterwards, I was able to reboot the server just by clicking on the node in the Web UI, and then clicking Reboot: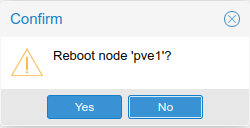 I double checked in an SSH terminal that the Proxmox version was showing the update, and the kernel was set to the correct one:

Enabling Dark Mode
Once the server rebooted, I reloaded the Web UI. To enable the theme, I went to the top right corner drop down, root@pam, went to Color Theme, and switched to Proxmox Dark: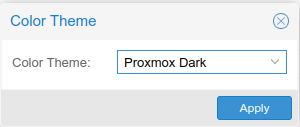 Once I clicked Apply, the UI reloaded and was comfortably dark: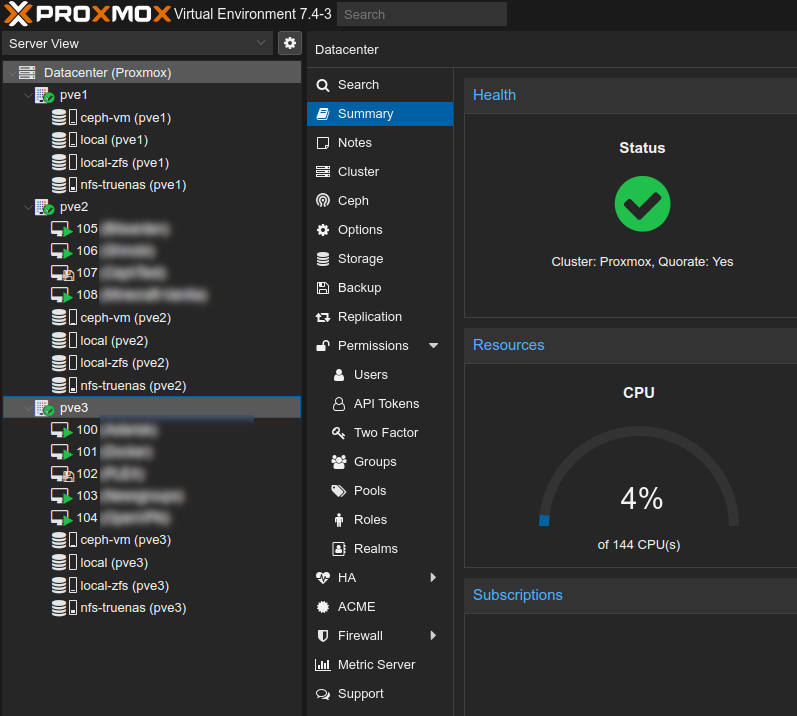 Detailed Ceph OSD Information
One of the other new features described was Detailed Ceph OSD Information. After upgrading, the version of Ceph went to 17.2.5 (quincy). The summary status for OSD didn't look changed, and just gave a quick look at how many were up/down or in/out: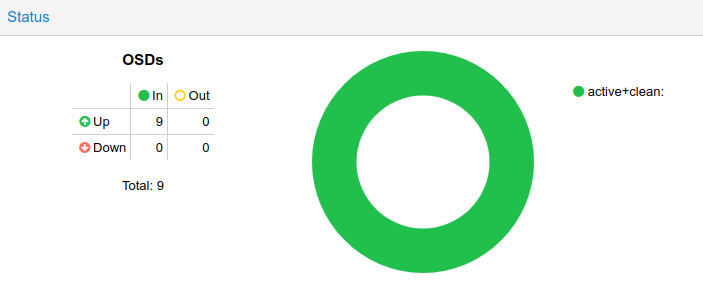 The OSD section for the node under the Ceph > OSD section just gave a bit more info:

You can click on any of the OSDs and view more information for the individual OSD under General, Network, and Devices: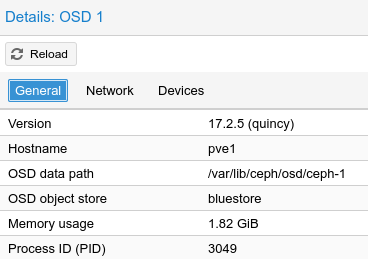 Conclusion
Proxmox VE 7.4 has some pretty nice features. The addition of a native Dark Mode was very welcome, and I also appreciated the Ceph enhancements. Upgrading from a recent version had no issues. If you are upgrading from Proxmox 6.x to 7.x, there are some instructions on the Wiki.
Resources